The chicken (Gallus gallus domesticus), a subspecies of the red junglefowl, is a type of domesticated fowl, originally from Southeastern Asia. Rooster or cock is a term for an adult male bird. A younger male may be called a cockerel; a male that has been castrated is a capon. The adult female bird is called a hen. "Chicken" was originally a term only for an immature, or at least young, bird, but thanks to its usage on restaurant menus has now become the most common term for the subspecies in general, especially in American English. In older sources common fowl or domestic fowl were typically used for this.
The average chicken may live for five to ten years, depending on the breed. The world's oldest known chicken was a hen which died of heart failure at the age of 16 years according to the Guinness World Records.
A rooster's crowing is a loud and sometimes shrill call and sends a territorial signal to other roosters.
However, roosters may also crow in response to sudden disturbances within their surroundings. Hens cluck loudly after laying an egg, and also to call their chicks. Chickens also give different warning calls when they sense a predator approaching from the air or on the ground.
More than 50 billion chickens are reared annually as a source of meat and eggs. In the United States alone, more than 8 billion chickens are slaughtered each year for meat, and more than 300 million chickens are reared for egg production.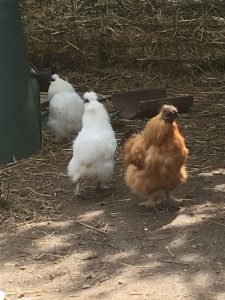 Chickens are social, inquisitive, intelligent birds, and many find their behaviour entertaining. Certain breeds, such as Silkies and many bantam varieties, are generally docile and are often recommended as good pets around children with disabilities. Many people feed chickens in part with kitchen food scraps.
Chickens are susceptible to several parasites, including lice, mites, ticks, fleas, and intestinal worms, as well as other diseases. Despite the name, they are not affected by chickenpox, which is generally restricted to humans.